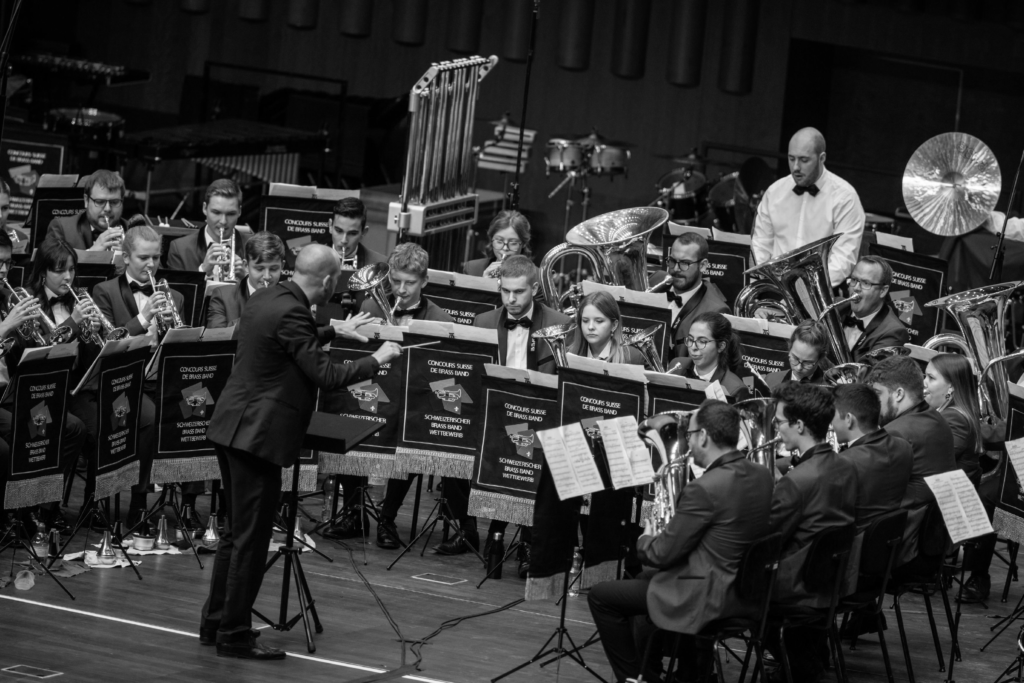 Aurélien Darbellay was born in 1992 in Liddes, in Valais. He started playing music with his natal village's brass band, « L'Union Instrumentale de Liddes ». He is still playing euphonium with them. After obtaining his graduating certificate, option latin-greek in the "College de Saint-Maurice", he continued his academic training at the University of Fribourg, where he got a Bachelor's degree in philosophy and musicology.
Afterwards, he chose to devote his career to music, particularly by conducting orchestras. He sought to deepen the initiation he has made during his military service. First, he studied orchestra conducting with Maurice Donnet-Monay. Then he did a Certificate in Advanced Studies in Orchestra Conducting to HKB in Bern, with Florian Ziemen and next to that, enrolled in the conservatory class of Fribourg with Jean-Claude Kolly. In May 2018, he joined the wind orchestra conducting class in the Lausanne's University of Music.
Aurélien currently conducts the concert band "l'Echo de Châtillon" in Massongex, the "Brass Band Junior Valaisan (BBJV)", the Belp Orchestra and newly, "La Jeune Garde de la Landwehr" in Fribourg since June 2019. Next to the art of conducting, the other great passion of Aurélien is the composition. Since a young age, he fills his drawers with various compositions, as much in the instrumentation as in the musical style.
In May 2019, his work « Exils » for wind band orchestra, mixed choir and children's choir won the second prize ex-aequo, as well as the audience's prize as part of the International Composition Contest from Haute-Savoie. Moreover his constantly renewed creative ambitions push him every day to embark on new projects of composition or conducting.